Andromeda Light Council Spirit Guide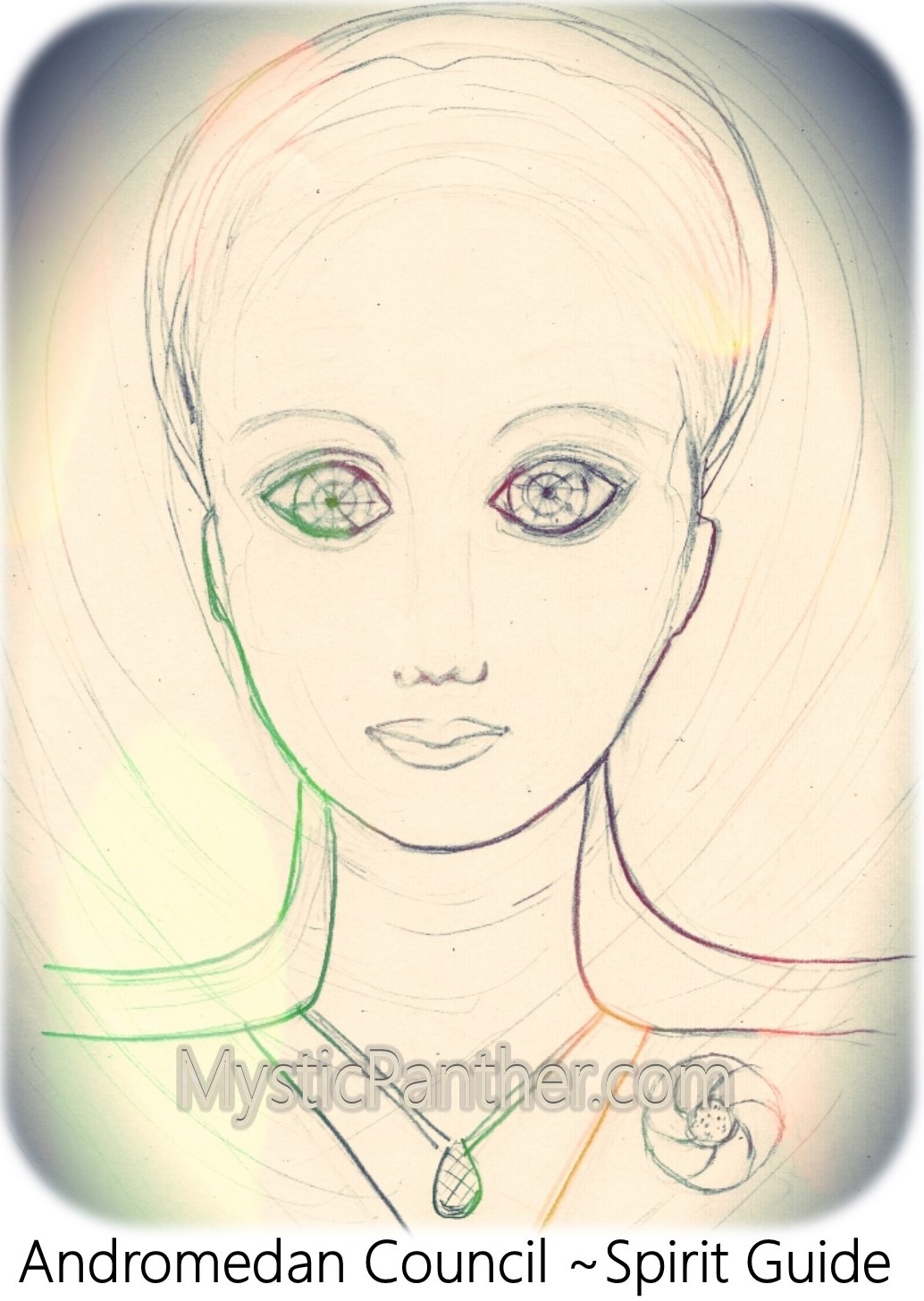 This is a guide that appeared to me some time ago who is in my soul group or family, because we all help each other at some time.
When I started to title the page in my notebook I spelt a word wonky and wondered how much she knew of our language.
I asked her what her mission is with me in this lifetime?
She said that she is the advisor of stories, language, religion and creative subjects such as using softness for lighting. Oh the stories are endless and fascinating!
I asked if she specialised on Earth?
Yes at the moment.
Have you lived on Earth?
Yes along the River Yangtze in China many thousand years ago.
What else would you like to tell?
How brave you are coming here in this day and age. (aww that's nice!) I do like stories and plays on Earth. They are a lot like other fantasy worlds and this brings the universe together.
Where are you from?
Andromeda Council of Light Beings. Your stories are wonderful and I will continue to help you with them and all their divine oneness of light. (Thank you that's very touching!).
Anything else?
You are free to go. Have a lovely day now. Good greetings to all.
Spirit Guide
Portrait: Andromeda Light Council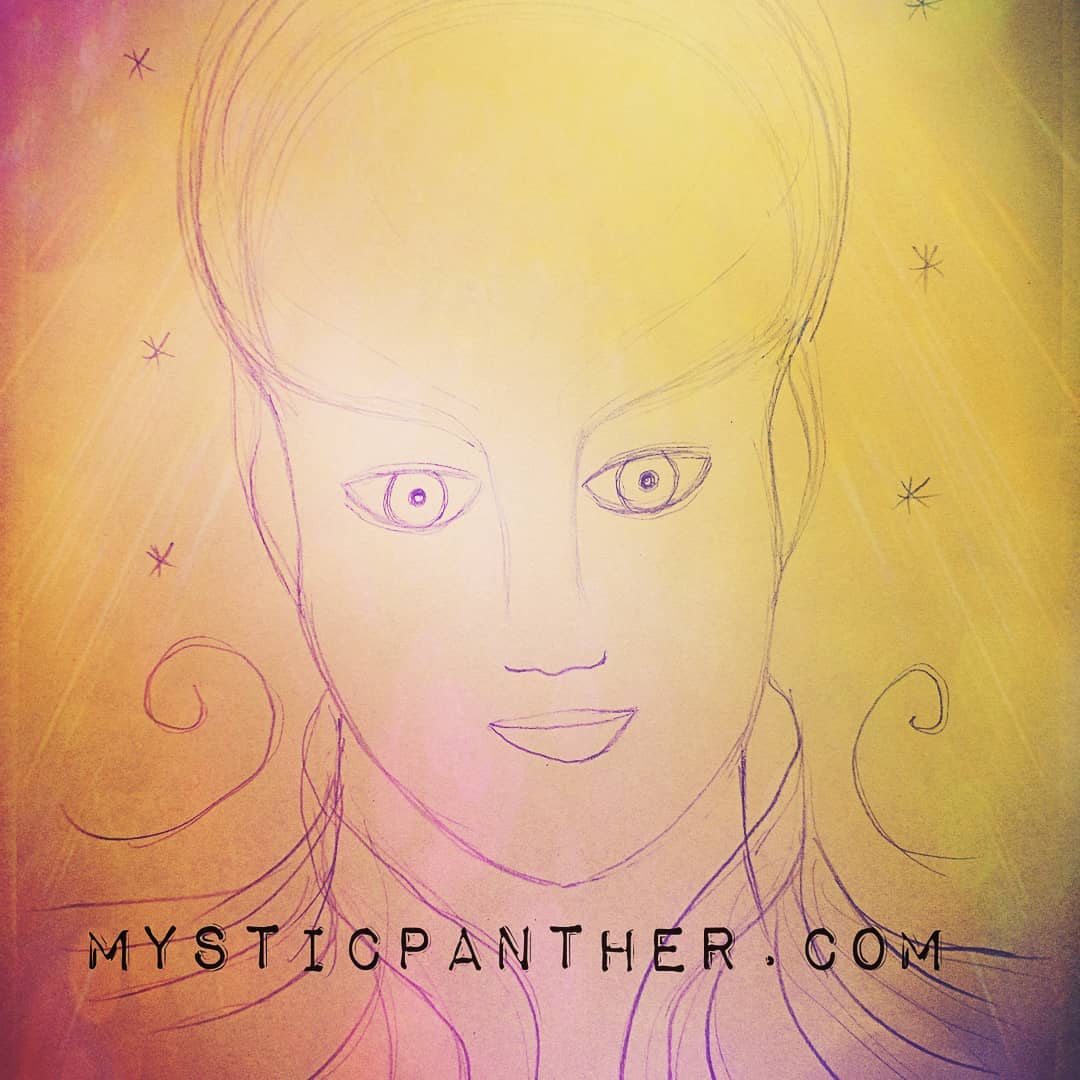 This is a life mission and portrait reading. I've only added the 2nd half of the reading to focus on Andromeda beings (although it's all about the mission). He is a light being from a light council in Andromeda. They refer to themselves as the seventh heaven and one consciousness. They are helping you with your creativity...
This energy's like the sun and it helps us with fun
This energy is for playing and it helps us with making
When there's tension and fear we can add some more cheer
This helps you to bring in a little cha-ching! ?
We are here in your thoughts if you ever feel lost
We're here for your ceiling and to help with your daydreams
If there's a spot on your ceiling we can help to remove this
So where are we from? We are more like as one ✨
When your thoughts are in suspension we can help relieve tension
We have no expectations we are simply your station
When rhythm is lost we just help you along
There is no separation and that's really our nation
We're a nation of feelings and that helps us to say things
We're a system replacement every drop is not wasted
We're a nation of beings that delight in all things
We can do this to music and it helps to improve things
We are there in your thoughts time can never feel lost
We are Andromeda beings with all ways and all means
These are new systems in place that will hold up your races
A new planet in making is our undertaking
With no more dementia to forget why we came here
We'll remake and have fun and we'll feel like the sun
We're a council of light beings and we love all this weaving
All this creativity is what we relay here
We Delight in your thoughts as the beauty's not lost
We delight in your feelings as it's part of the weaving
So remember to tell, everyone how to spell
How to make things with paper or any other planet saver
You Are So Pure at Heart and that's a very good start ?
You have fantastic dreams any way any means
There is beauty in making and that's really your place here
Your Wisdom it is pure and that is for sure
We Salute You and say bye just remember we're right here ✨
Andromeda CONSTELLATION Avian beingS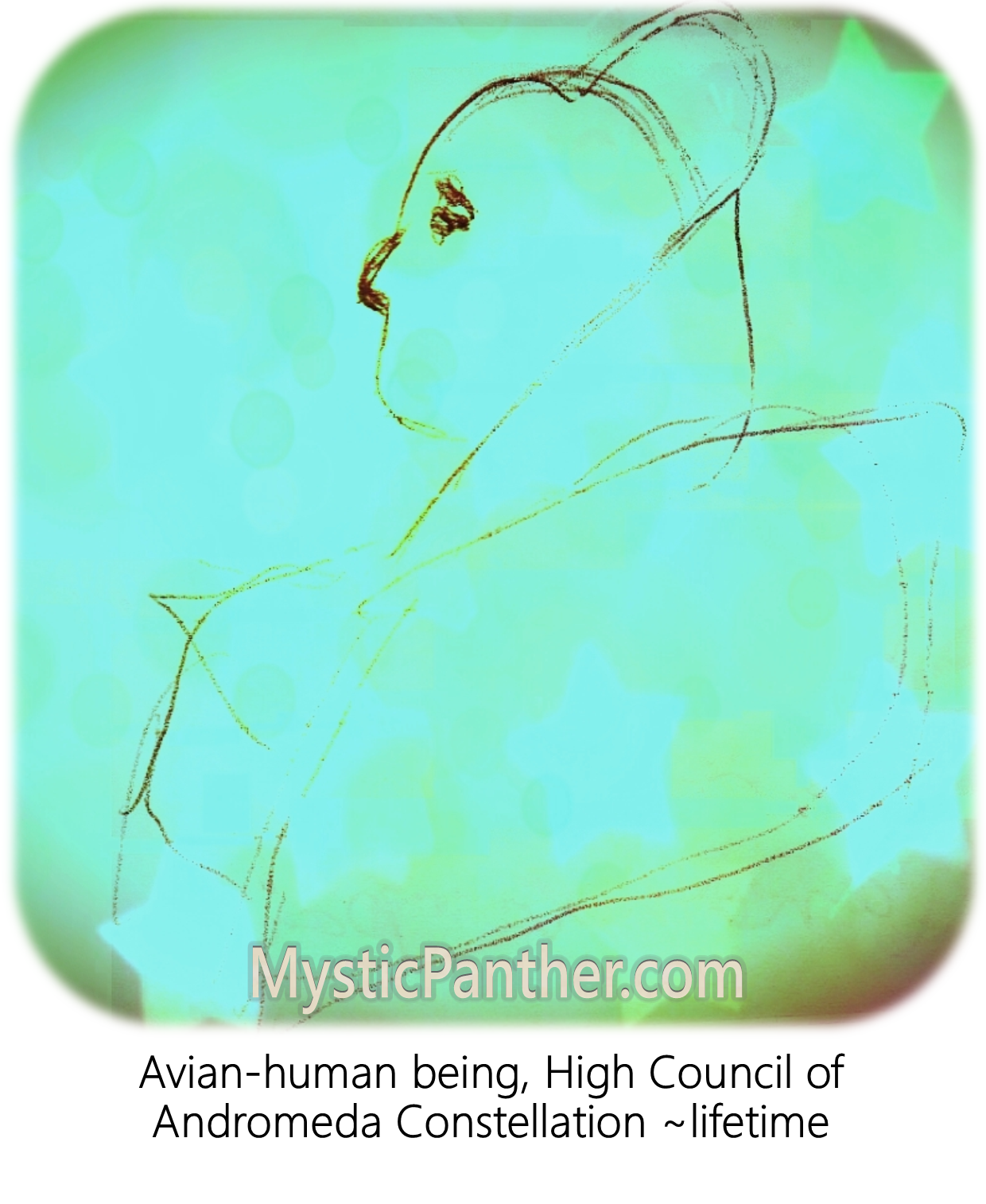 I explored a lifetime of mine in the Andromeda Constellation and it turns out my foster cat, and a friend in this lifetime popped up in the story as an Avian being as well. I was a blue avian being on a green mission, and told a name that sounded like Prenelia or Phenelia, possibly a planet.
Green is the fullness and richness of each way; it teaches us how to live day by day. Bringer of growth, balance, teaching, healing, and nature. Heart chakra.
This poem tells of our mission and way of being in the High Council...
~* Wisdom becomes expansion *~
Planets of destruction, and a flying ace; this tale we tell, it feels like hell, but it was a lovely race.
You're a fighter and a pilot, and you searched for something new; that's something that you need these days, and you always have a view.
Trudy (my dragon-origin cat) helped you beat them, she's a strong one who can fight; she's filled with so much wisdom and you loved her without spite.
You know her and you feel her, and she's there each passing day (yes we still have psychic chats); she fills your room with splendour and she helps you find your way; and if you pay attention, it will never slip away.
The monsters and the baddies, the troubles and the fights; these things we had to try real hard to tease out of our life.
Energy entanglements that we pulled apart like string; we had to keep things rolling, so folks could do their thing.
The green is there for birth and growth. it's always a new way; it helps us see that change and spring brings balance to each passing day.
Humans and the bird beings are tough and brilliant too; they see it from up high there, and that's easier to do.
Such challenges are wasted, in low ground and in mud; to clearly see a problem, is where we have much luck.
It's lighter, and it's clearer, and it's easy just to say ~ my troubles are now wispy ~ and then they fade away!
I want to dance, I want to sing, I love the feeling of the flow; my troubles are all over, and I love to go and go!
So fight and spite can yield delight, and flow can help you go.
That's all you need, you're done, you're freed; the planets and their brilliance is all you need to see; destruction and destroying is part of the human seed.
It lends itself to new things, and new experience too; If we didn't have the fire, we'd never be brand new.
Harnessing the fire of creation, is where it all comes through; the breath of life we feel each day is another part of you.
This movement and this platform, is a thriving marketplace; to see, hear and discover, to cater to all tastes.
The tapestry of life here is rich and feels so true; and that's how all us older souls can get to feel brand new.
Connection and creation is where it's all in play; we fashion our own layout and it helps to carve the way.
This beauty and this glow, this growth and this relay; is a wonderment and ponderment and a fruitful part of strength.
Checking and correcting, and balance point the way; we need it and it's present, when we have so much dismay.

The Dream Walker of Andromeda : Soul Origin
Summary:
When you first separated from the source, you chose to go to the Andromeda star system.
- born out of fire, with red energy
- a light/energy being shaped like a gryphon + horse with wings and a curly tail (I used a copyright-free image here for illustrative purposes)
- a dream walker, whisperer, and maker for helping others manifest their wishes
- a protector that fends off the darkness
Light Code Reading
The guides, teachers and loved ones
We are here to tell, we think this will help you so well
Icy white, shines so bright
Andromeda stars, this is ours
Where we are seated is how you will read it
Interstellar is what we tell you (aka the huge number star alignments in your astrology!)
The wage is set, we will find your bet
It's never too late to learn to skate
What we see is a dream and you really are keen
These things that we taste they help settle the pace
Sometimes we can see it in order to achieve it
What we feel is a dream and its part of the scheme
Thousands of stars and they all become ours
So what can we tell you, your future is well
It's there on your seat and it's part of your beat
Sometimes it's like treacle and sometimes like a steeple
you glide through the air like you don't have a care
There's visions and dreams and they're part of your seams
What else can we tell ? this is suiting you well
Some visions are clear and they are part of your cheer
What we feel is delight and it's part of you fight
How we make this the best is when you ride in a test
You have fun swirling round and you ride around town
You can chase in the light and you can do this with flight
You swoop and you soar and it's never a bore
The curls and delights are just part of your fight
We can see what you see and you ride with glee
You can trail and host and you feel it the most
This is part of your dream and it's part of the scheme
We have so much more to tell, we are wishing you well
These are dreams that you trace these are there in your face
You live in the wisdom and you make it a kingdom
There's a heart and a star and you ride it afar
There are crackles and whistles and journeys and visions
They collide in the stars and we see them afar
It makes sense in the fight and the tales of each night
You're a giant in your seat you have focus and beat
You have kingdoms to explore and visions galore
A curly tail is here and it fends away fears
Keep your eyes on the ball and you never will fall
I see wings and a tail and you're lovely when you sail
Through the sky on the beach and your cares out of reach
Is it a gryphon or a horse? well it's sort of them both
You're a watcher and a waiter and a glider and a skater
You roll up above and you shout out with love
It's a vision to tell and it's ever so swell
And you flee with your dreams and you love all the means
You are born out of fire and you fly higher and higher
What else can we say? you are lovely in all ways!
You have passion and dreams and it's part of your means
You can see it and say it you have the brilliance to make it
When they're lonely at night you can ward off the fright
This helps them in dreams and helps them to see how they really can be
Take a step like a lion and convince them they're tryin'
When it's all in their head and they lose strength in bed
Red is for action and gives them the traction
Courage awaits them everyday and this makes them
Be tall and be cheerful and it's something to sing for
We've seen this before and it's never a chore
So what are we saying? you listen, you wait them
You tell them their dream and they feel oh so keen
It doesn't matter who's there and it feel oh so fair
It's a beautiful thing and it's really your thing
To feel bliss in the night and to flight and give light
You glisten and glow you fly high and fly low
A kaleidoscope is your host and you love that the most
Kaleidoscopes bring cheer and diminishes fear
You love this, to see how the tailbacks are freed
You glide in the air and relieve them of cares
The trouble awaits but you calm them and it fades
So beauty and bells is part of your spell
It's a magical spell and you ride it so well
It's a vision to the East, it's a wonderful feast
Never nosey or bored always finding a hoard
If we make it and dream it then we feel it and keep it
It's a beautiful place to be there in that race
Your alignments are true and are all part of you
Check the sun in your sign and you know it's all fine (fire )
Your vision awaits you and it tells you what makes you
Good bye and good cheer we will watch you for years
Your accomplishments and truths are the making of you
You have so much to tell and you really are swell
Thank you for all of your dreams and for keeping us keen
© Copyright Cosmic Panther Starseed Origin Readings